Actor and writer JD Scalzo composed the play "90 in 90" after entering recovery in April 2019. He met therapist Jack Britton while receiving treatment at Turnbridge, and the two recently sat down for an interview about recovery and the play. "90 in 90," which reflects on aspects of his experiences in early recovery, debuted in New York City in December of 2021. We thank JD for volunteering the content below.
Jack: I want to get to know you and the play "90 in 90", which I recently saw performed in New York. Will you tell me a little bit about how we got to talking today?
JD: Well, to start, "90 in 90" tells the story of a young man in early recovery from drugs, alcohol, and mental health challenges. We follow him through his first 90 days by way of a cross country road trip he takes from Los Angeles to New England. Surprise, surprise this story is based on my own personal experiences! Being from the New Haven area, my final destination was to my parents in Hamden [Connecticut] and part of my goal in the beginning was to get into an Intensive Outpatient Program, or IOP. A good friend of mine had connected me to Turnbridge, and around my 60-day mark I started the program. There I met you – I will never forget that first intake session – and from there I started the group and it truly changed my life, expanded my mind and offered a foundation in early recovery. Needless to say, I had to include some semblance of that experience in this play to show varying perspectives and styles of treatment made available. I came to Turnbridge gutted and depressed, and I found a safe haven there. Those couple of scenes inspired by my time there were meant to pay homage to this place and to you – so thank you. And then you came to see the show! And now, here we are!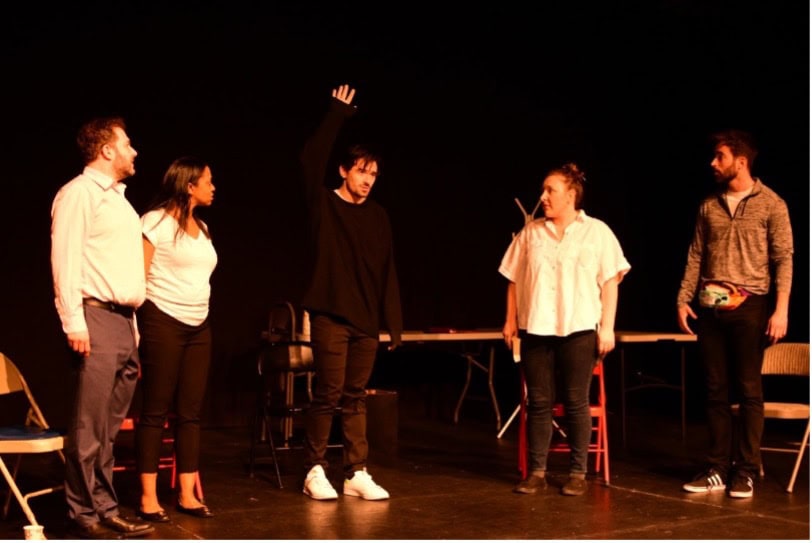 Jack: It was a joy to see the play, which was excellent on many levels – from the writing to the acting, and of course the content itself. You could pick all sorts of topics to write about. Why early recovery?
JD: I learned early on in my writing career to 'write what you know,' and I learned so much – so many interesting, magical, coincidental things happened in my first three months that I just wanted to capture and share. When I was first getting sober it was books like "Dry" and tv shows like "Mom" or movies like "28 Days" that helped me process. Hearing and learning about other people's stories were really impactful. My road trip and the people I met and things I saw were so incredible that I wanted to dramatize them. I also just love theater and coming back to New York, this was a way to get connected back in. The play offers non-recovering people a chance to learn more about that process, and it gives recovering people an opportunity to relate. What do you remember about being a newcomer to 12-step fellowships and to treatment?

I remember almost every day of those first 90 days. I remember the weight. I was very sad; I was very scared. I cried a lot the first two months. The last time I cried was my drive to our first session of Intensive Outpatient Program. I called my friend who connected me to Turnbridge. I was in tears. My entire world was flipped upside-down. I had a lot of fear. I was very heart-broken. In the solution, what I really remember is these strangers from all across the country who just put out their hand, figuratively and literally. The coffee talks, the phone calls, the texts, the genuine concern for my well-being. You bond over your history without even having to discuss it. I remember being so open and hungry to "fix myself", which is why I think IOP was really successful for me where it was separate from meetings. In meetings I could share; in treatment we had more of a dialog. I remember soaking in love and knowledge and rest. I hadn't stopped for 15 years. The play's main character knows how he got there but he doesn't know the why; I think over the 90 days I got a grasp on the 'why'. Watching the play helped me remember the pain and confusion, and so much of it now is clearer and better.

Jack: You've been acting and writing since you were young. I found the writing in "90 in 90" to be clever and insightful. When did you start writing the play, and what was that process like?

JD: Thank you. I've been acting since I was about 7 or 8; I always forget exactly when, but at this point it was about 25 years ago, which I kind of love to admit. I only started really writing less than 5 years ago. I first wrote a web series called "jaded" (available on Revry!). Around that time and since then, I've written a handful of outlines or "treatments" for screenplays and a pilot for a television show. "90 in 90" was actually my first play that was fully produced. I started writing it shortly after my first 90 days after a friend encouraged me to do so. I told him about my road trip and everything going on and he was basically like "you need to write this". I was hesitant for a while, up until the first rehearsal of this production actually – but nonetheless I wrote it. It was cathartic, if nothing else. It was originally supposed to be produced summer of 2020, and I was able to host a few in person read throughs – which really helped me to verify how things sounded and what worked or didn't. But then the production was delayed several times because of the pandemic so I actually had a lot of extra time to go back and edit and rewrite. And in editing it, then and now, I was adamant that I didn't rewrite it through the lens of everything I've learned since my first 90 days, and really wanted to keep that curiosity I had then and the main character had while figuring out the new world he fell into.

Jack: If any, what sort of worries or fears did you have with the play's content, and how did you overcome or work through those?

JD: I had so many. Recovery is so personal. For some it's kept so secret and understandably so – the program is anonymous after all, and I totally get that. When I first wrote the play, I kind of existed in a vacuum. I didn't have a fellowship at home, I didn't really have roots in the program yet. I had contacts and fellows for sure, but I didn't think I was seen. In fact, my current sponsor had to remind me early on that 'I was not invisible'. Two and a half years into recovery and grounded in the New York City fellowship, where a lot of my friends are sober and in the program, I was nervous that I may be shunned or people may be upset that I was kind of breaking my own anonymity. I just kept telling myself that if this helps one person, it would be success. It was about me, but it was not just about me. Often times we see a person's demise or spiral dramatized because it makes for good entertainment. I wanted to do the opposite and depict a person getting better.

Jack: I imagine the play has helped you in a lot of ways. From its creation to the performances, how has the play impacted your mental health?

JD: The play has impacted me positively. It's been able to give me a reference for what it was like then and what it's like now. It's reminded me how special one's path to recovery is, and it's another reason to keep going. I was very fortunate to get time to focus on recovery.

Jack: The play features a lot about support – from family and friends to fellows in recovery who become your friends. How has a network impacted you long after the first 90 days?

JD: A network is the foundation for me. I'm reminded how awesome and beautiful and supportive of a family I have. And a network is why I keep going back to meetings. If I met all these great people in just two and a half years, I think about how many more I can meet. I've found friends, love, and partnership in sobriety.

Jack: The play contains some CBT (Cognitive Behavioral Therapy)-related material, as well as trauma-related content/experience. What from treatment has stuck with you since you were in an IOP?

JD: You and the Turnbridge team taught me so many things in that short amount of time that I still apply – for instance, understanding that my thoughts are just that and that I can detach from them. I remember we were in your office, and you showed me how I can step to the side of my thoughts to notice how I'm thinking, not just what I'm thinking. I learned as well that there's a difference between having depression and being depressed. I resigned myself to accept that I would be a sad, heart-broken, drug-using person; I thought, 'This is who I am.' And in treatment I was able to pull apart what I truly was. IOP helped me untangle the wires. I also learned about stages of change – and it helped so much to break down the process of change – from each stage, and where I was and when. Also – understanding and being relieved that I am who I am because of certain events and circumstances that were beyond my control. I used to think, "My mom died; deal with it", and it took getting sober to really understand what happened and how it's affected me. Recovery brings relief, and I had to learn that. I'm not broken.

Jack: As noted above, you were accepted into the New York Summer Theater Festival in 2020 and then COVID happened, delaying the play's performances. What was it like to finally see your play being performed after all the work on it, as well as the delay?

JD: It was surreal. I still don't know if I have the words. I played playwright and producer, and the latter took over in the end so it really wasn't until the second performance I got to sit down, listen and watch openly, and realize – wow, I wrote this; I made a play; and above anything it is just that – a play. Theater is just coming back and I got to be a part of it. I really didn't think I would follow through until the very last minute because of the fears and worries I had but I am so grateful I did. Making theater has always been my first love and I got to do that here and share it.

Jack: You've gotten a lot of positive feedback from the play as theater and from the play as content. In terms of its content, why do you think it has resonated?

JD: The play ended up being about so much more than recovery from drugs and alcohol. Not everyone can relate to having addiction issues or getting sober, but many people can identify with loss, grief, family, questioning your beliefs, getting better, and growing up. I lost my mom when I was young, and this play was never intended to be an expose on that, but it became one. The actors made these characters human, and people were able to connect with them on deeper levels than I could have even imagined. The director made this story a play – a real piece of theater – and we've all been starved for that this last almost two years, so people found comfort there. I was also told that people didn't feel forced into believing one way or another about getting sober – they were able to see it objectively and not made to feel guilty about their own relationships with drugs and alcohol, which was major — "attraction not promotion" was another reminder I kept telling myself. This was my story, and it was very clear as to why this person needed to get sober or just make a change. We as people are constantly evolving in one way or another, so I think people can relate to that aspect regardless of the reasoning.

Jack: How was the play produced? Like, who funded it?

JD: I funded it myself with the help of some generous friends and family who contributed to a small GoFundMe campaign.

Jack: Wow, that's powerful — you really believed in it. What would you want people to think about after seeing "90 in 90"?

JD: I would want people to feel hope. We often see a character's demise in plays. For me it was important to flip that narrative and watch their recovery. Recovery is painted a little bit tough and painful and exhausting, but through time the character is able to build hope and a life. Also, from a theatrical standpoint, if you don't tell your story, who will? That was a struggle I had in writing this play to begin with. We have some of the best stories in theater because people wrote from their own lives.

Jack: What were and are your hopes for the play?

JD: My hopes were surpassed! If I could connect to just one person I would be satisfied. If I could make a topic such as recovery and sobriety a little less taboo, I'd be happy. If I could take a really difficult time in my life and find a playful, theatrical way to explore it – I'd be happy. I'm not sure what will happen next, but I do hope there is another production, even more fully realized and with some more time to explore because I even learned some things in these recent performances, and that is just the power of theater: to teach and entertain.