Travis Barker has made what some might consider a "comeback," in his life, his health, and in his music career. A long-renowned drummer for Blink 182, Barker's name has recently exploded across Billboard charts, as he collaborates with pop-punk revivalists like Machine Gun Kelly and Kennyhoopla. The musician and now-producer is a legendary name in the pop-punk scene, and it's clear he's here to stay. Travis Barker also has every desire to stay healthy, and to be the best version of himself, every step of the way. This past Spring, Barker shared more about his health and wellness journey, as well as details around his past drug abuse and mental health struggles, in interviews with GQ and Men's Health.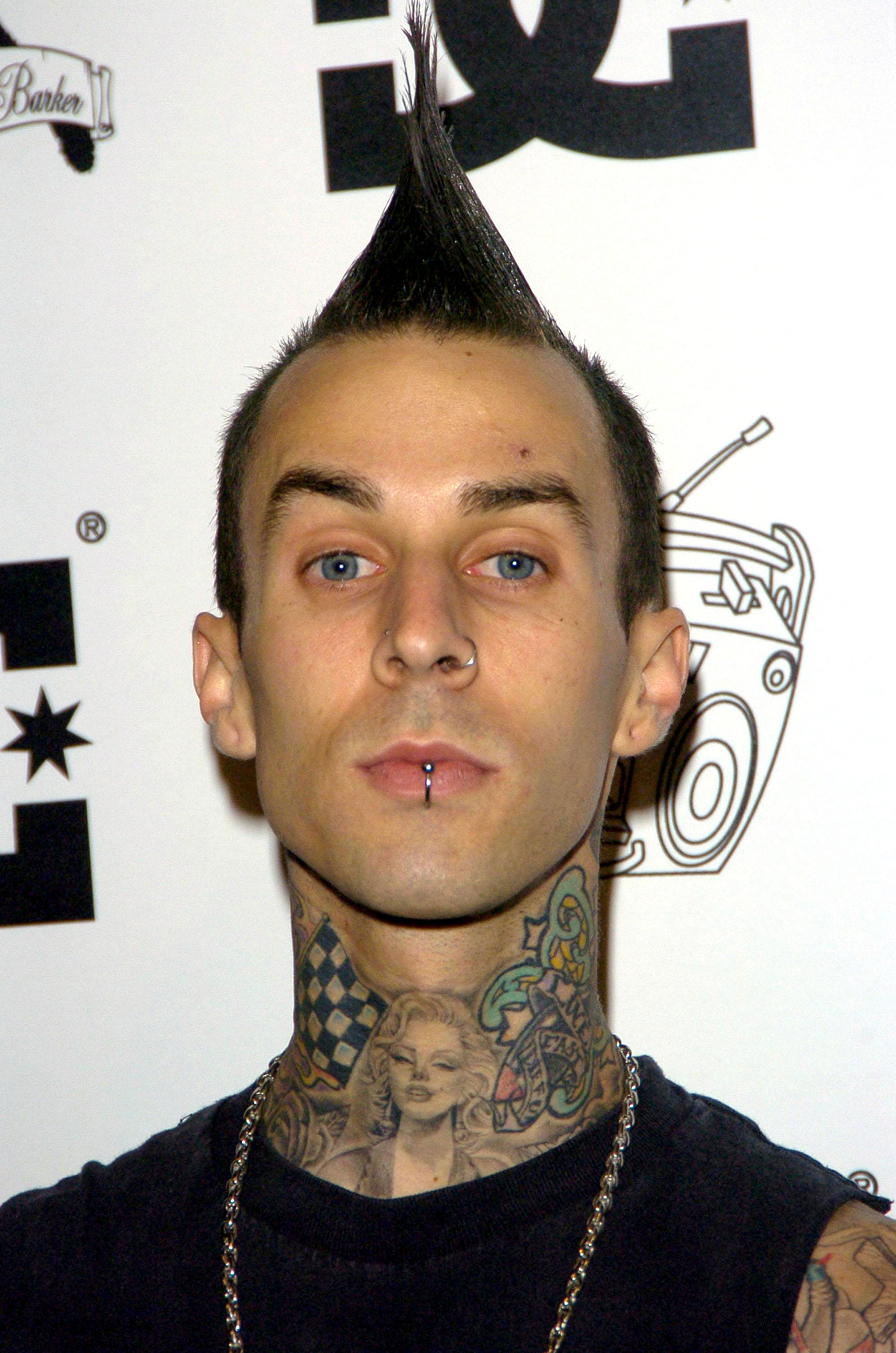 Travis Barker's day-to-day is not what you might find "typical" for a punk rock star. His days are filled with nutritious eating, exercise, work, and drinking plenty of water. The star eats a fully vegan diet and works out six days a week. He recently started his own wellness company, while staying fully focused on his music and production career. When he needs balance and self-care, he seeks out holistic therapies.
Of course, Barker's life did not always play out this way. Prior to his wellness journey, Barker struggled with painkiller addiction and smoked "an excessive amount" of marijuana. He got on the road to recovery, however, after a near fatal accident back in 2008.
Travis Barker's life changed in September 2008, after surviving a plane crash that killed four of the six people on board. Travis Barker and his friend, DJ AM, were the only two survivors. The drummer suffered from third-degree burns on most of his body, underwent many surgeries, and endured many long years of recovery. From that point on, he promised himself that if he could walk again, he would live a healthy way of life. He would eat vegan and exercise daily. And that's exactly what he did. He stopped abusing drugs and started prioritizing his wellbeing. He promised to never use hard drugs again.
Barker calls the plane crash his own form of "rehab." "That was my wake-up call. If I wasn't in a crash, I would have probably never quit," he explained to Men's Health magazine.
Of course, the plane crash in 2008 left Travis Barker with great trauma. Losing three of his close friends, he struggles with 'survivor's guilt' and post-traumatic stress disorder (PTSD). Survivor's guilt is a mental health condition that occurs when a person believes they have done something wrong by surviving a tragic event, when others did not. It is a common symptom of post-traumatic stress disorder, which is also caused by a traumatic or life-threatening event. Although PTSD is often linked to substance abuse, Travis Barker found other ways to cope with his difficult experiences – he did not turn back to drugs.
Barker believes his painkiller or opioid addiction started as a way to cope with his fear of flying for Blink 182 tours. However, it got so bad that Barker depleted his body of calcium and developed osteoporosis. In the hospital, he frequently woke up during surgeries because his opioid tolerance was so high. That was when he knew something had to change. He flushed all his prescribed medications down the toilet — "including stuff that I really needed"— and from that day on, never turned back.
It is still speculated that his friend, DJ AM, did turn back to drugs after that fatal crash. DJ AM, or Adam Goldstein, overdosed on a fatal combination of drugs almost one year after the plane crash. Prior to the crash, DJ AM had been sober for over a decade. However, close friends of Goldstein say he battled post-traumatic stress disorder and survivor's guilt, too, which might have compelled him to turn back to drugs. This is unfortunately common, as drugs are chemicals that alter the brain's chemistry and allow users to temporarily escape from negative feelings or thoughts. However, this can quickly lead to addiction. It can also lead to overdose. Those who relapse after an extended period of sobriety are more prone to overdose because they think they can abuse the same drugs, in the same dosages, as they did when they were dependent. This is extremely dangerous. DJ AM was found with traces of cocaine, Oxycodone, Vicodin, Ativan, Klonopin, Xanax, Benadryl, and Levamisole in his system.
According to Men's Health, after the plane crash in 2008, Barker struggled with PTSD. He rarely slept at night and was burdened by the fear that catastrophe might strike again.  "I was dark," Barker admitted. "I couldn't walk down the street. If I saw a plane [in the sky], I was determined it was going to crash, and I just didn't want to see it."
For several months, Barker attended therapy and with that, these negative feelings started to dissipate. While the crash still haunts him to this day, it has become easier for him to cope with the trauma over time. He uses meditational and mindfulness practices to stay calm and grounded before he travels. He also uses these tactics before big shows and thinks purposefully about the people he has lost. Additionally, Barker utilizes a method called 'breathwork' to let go of buried traumas. His first time trying breathwork was a transformative experience, he says, like a weight was lifted off of his chest.
In addition to these holistic methods of healing, Travis Barker finds solace in his relationships and family. He has been focused on spending time with his children and even took time to go on his first real vacation. He has not yet boarded a plane, but feels like he is getting closer to that day.
Health and wellness is a key component of recovery. No matter what your drug of choice was, or what you are struggling with emotionally, prioritizing your health can, in turn, help you find gratitude, purpose, and happiness in your everyday life. Exercise, for example, has many health benefits. It reduces symptoms of anxiety and depression, decreases stress hormones in the body, improves energy levels, and helps release pent-up tension and fear. Healthy eating also promotes general wellness, allowing your body to restore proper nutrition and reduce your risk of illness and its related stress.
In addition to the many mental health and physical health benefits, prioritizing wellness can also lead to higher self-confidence and a more positive outlook on life. For these reasons, at Turnbridge's drug treatment programs, exercise and healthful eating are fundamental components of the recovery process.
Travis Barker knows a thing or two about what goes into a successful recovery. For exercise, Barker runs three to four miles a day or does interval training, Muay Thai, and work-outs with a boxing trainer. He prepares vegan meals or eats at local, healthy restaurants, where he'll order a protein shake or veggie-filled bowl. By prioritizing healthy eating and daily exercise, in combination with therapy and holistic meditational methods, he is able to wake up and find purpose each day—without the use of drugs.
If you have a loved one who is struggling with substance abuse or a mental health disorder like post-traumatic stress order, you are not alone. We are here for you. Call Turnbridge at 877-581-1793 to learn how we can help you on the path towards recovery.