Olivia Rodrigo is a 19-year-old singer-songwriter and already a household name in pop music. She had a fast rise to fame after releasing her debut single, "Driver's License" in early 2021. The song captured the hearts of many fans, held the number-one spot on Billboard's Hot 100 chart, and ranked as one of the top most streamed songs on Spotify worldwide. After "Driver's License" was released, Olivia Rodrigo tweeted that she couldn't wait to tell her therapist about the song's success.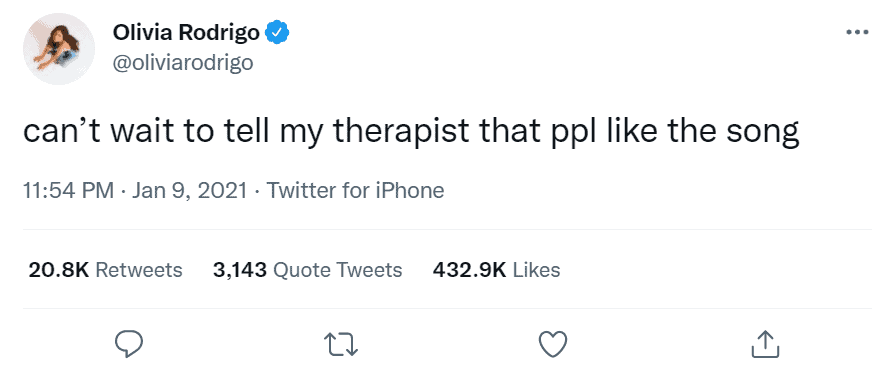 Through this tweet, and through many interviews that followed, it became clear that Olivia Rodrigo is an advocate for mental health. In fact, she has been attending therapy since she was about 16 years old. Her initial choice to attend therapy, she explained, helped shape who she is today. "That was a really big, life-changing moment. I've learned so much about myself."
People may be wondering, "Why is Olivia Rodrigo in therapy?" Or, "What mental health problems is she facing?" And this is a common misconception that many have about therapy – that you have to be diagnosed with a mental health condition in order to attend. The truth is, Olivia Rodrigo recognized the benefits of therapy from a young age. Her father is a therapist, so she has always had exposure to it. The singer found solace in finding her therapist, who really helped her through the teenage years.
Of course, Olivia Rodrigo recognizes the stigma that exists around therapy. When speaking about her emotional debut album, "Sour," she talked about how some people are in disbelief that she sees a therapist. She also talked about how, like many teens, her feelings were not always validated – and that is where her therapist helped.
"Sometimes people are like, 'Oh, you don't need [therapy]. You have so much. Your life is so great. What are your problems?'" Olivia continued, "I think that's definitely a thing that sometimes older people can do to younger people — kind of trivialize what they're going through just because, you know, 'Ah, they're fine, they're just kids. They'll get through it.' But it feels so real when you're in it. It's so valid."
Many teenagers can benefit from therapy because it confirms their emotions. It makes them feel supported. At a time in life where they may struggle to connect with their parents, or to understand their changing identities, therapy can prove to be an incredible resource for teens to get to know – and to love – themselves.
A person doesn't need to have a big reason to go to therapy. They don't need to wait to hit rock bottom. They may just need extra help or support emotionally. Therapy is a tool that can be used to protect and improve one's mental health, at any stage in life and for any reason at all. Especially now, when the country is facing a rampant mental health crisis, therapy is more needed than ever.
Olivia Rodrigo's Fame and Mental Health
While Olivia Rodrigo admitted she is not crying on her bedroom floor every day, and that her life is in fact great, she also recognizes that her rise to fame has taken a bit of a toll on her mental health. In an interview with Vogue Singapore, Olivia explained that she's taking fame "one step at a time."
"It can be really tough on your mental health… I'm grateful for the people who like me for me, and keep me separated from all the noise and tabloids or what people are saying about me on social media. That's always been a top priority."
She further explained that social media has always been challenging for her mental health, a sentiment that many teenagers today might resonate with: "Even now, I still struggle with it. You look at social media and see the perfect parts of people's lives and it's so hard not to compare your life to theirs. It's even weird for me to see my Instagram page; that's what people think of me but that doesn't feel like me. I wish they knew the real me."
Olivia Rodrigo also recognizes that she's still figuring life out. After all, she is just budding into young adulthood. In an E! News interview, she admits, "I don't know who I am and what I'm supposed to be doing in life. I don't think anyone really knows, but you get more comfortable with that uncertainty as you get older. It's super fun to be constantly changing and figuring stuff out. I never want to stop learning and growing as a person."
The Benefits of Therapy for Teen Mental Health
Adolescence is a period of transition, coming with many emotional and physical changes. On top of this, modern teenagers are dealing with things like a stressful political climate, grief and loss from the pandemic, pressure from social media, and crises like racism and gun violence in schools. It is a lot for teenagers to take on, and a reason why so many can benefit from counseling and therapy. You can learn more about the importance of therapy for teens here.
For teenagers in particular, therapy can help to:
Build self-esteem and self-confidence
Establish positive relationships with others
Learn important skills, such as communication and coping
Regulate difficult or overwhelming emotions
Develop self-awareness and self-love
Enhance their overall mood and well-being
As Joyce Marter, founder of Urban Balance, explains in a Healthline interview, "Seeking therapy is a routine and preventive form of healthcare, like going to the dentist or the doctor."
In other words, mental health care is health care. And there are many reasons a person might go to therapy to benefit their mental health. They may wish to understand themselves better. They may wish to improve their coping skills. They may desire to overcome a battle in life, or improve a relationship. All reasons are valid. For teens especially, therapy can prove extremely beneficial.
We are in a time where cases of anxiety, depression, and stress-related disorders are emerging rapidly among teenagers. Today, youth between the ages of 11 and 17 are most likely (among all age groups) to exhibit concerning symptoms of anxiety and depression. Rates of suicide are also highest among this age group. Since the pandemic began, and even in the years leading up to it, there have been signs of a youth mental health crisis. This is something that parents of teens, and teenagers themselves, must be aware of and prepared for.
For teenagers who are struggling with their mental health, the best thing you can do for yourself is to be open and honest about it. You do not deserve to struggle silently. You deserve support. Do not be afraid to ask for help. As Marter explains, "You will feel better after you connect with a therapist. It's a wonderful, caring, and compassionate thing to do for yourself. Think of it as being a good parent to yourself and getting yourself the professional support you need and deserve."
If you are a parent of a teen, the best way you can help is by being an advocate for your child's mental health. Parents can open up conversations about mental health, ask questions, and be a support system for their teen in times of need. Parents can also have a plan to address any mental health concerns. Whether your teen is showing symptoms of anxiety or depression, or even if your teen does not have a mental health disorder, a therapist can be a tool that is of interest to them.
If you are a teen and struggling with your mental health, or you have a teen at home, do not hesitate to ask for help. Asking for help is one of the smartest and bravest things you can do. If you do not know who to call, you can always contact Turnbridge for support. Turnbridge is a mental health treatment provider for adolescents and young adults. We are here for you.