As an accomplished motocross racer, AJ knows that the sport can be very dangerous. Around the age of 14, he suffered numerous injuries while competing in the sport he loved. "I've broken over 20 bones in my body," said AJ. 
As a result of these injures, AJ was issued prescription painkillers to help him manage the pain he was experiencing. This is when his addiction took effect. AJ had suffered so many recurring injuries that the painkillers were seemingly always available. "With more injuries and more headaches, there was a point where I just became addicted to the painkillers," AJ said. As his addiction progressed, AJ began to miss a lot of racing time, and after failing to reach Nationals he decided to hang up the helmet and party instead.
"Once I got to college, it was just off to the races," AJ said. The drinking and drugging became an every day occurrence. AJ would later join a band and begin touring with them. "Weed and alcohol was a constant all the time," said AJ.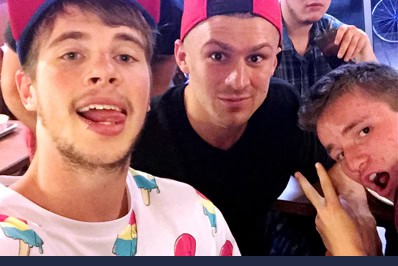 During his time with the band is when AJ progressed to using cocaine and "opiates became [his] thing". Shortly after leaving school, and beginning a relationship with a new girlfriend, AJ moved in with her.  His new living situation allowed him to hide his substance use from his parents. "That really became an incubator for my addiction because I didn't have to look at my dad," said AJ.  
Following a hard break up with his girlfriend, AJ's opiate addiction progressed to IV heroin abuse and things continued to spiral downward from there, and fast.  After his father became aware of his addiction, AJ was given the option to live on the streets or go to rehab. This was the turning point in AJ's life, as he decided to accept the treatment that he needed.
Following the completion of a 28-day program in Maryland, AJ decided to come to Turnbridge's young adult drug rehab center for aftercare. AJ hasn't looked back.  In the latter part of his residency at Turnbridge, he was asked to be a House Manager in the Phase III program. AJ has become a mentor to the Phase I clients. "I'm extremely grateful for Turnbridge and the great friends I made there," says AJ.
Today, AJ is an employee at a popular New Haven coffee shop and continues to work hard in developing his career as a musician. He recently returned from tour, and is in the studio up to 30 hours a week doing what he loves.