Every Friday night during the summer and fall seasons, Turnbridge residents and staff lace up their cleats and hit the diamond to compete in New Haven's local "Sober Softball" league. The league is comprised solely of men and women in recovery, all enjoying the atmosphere and camaraderie in a safe, substance-free environment. This year, the team was coached by Phase III residents, Eric V. and Stephen H.
"Many of the young men that come to Turnbridge were very active in sports prior to their escalating struggles with substance abuse" said Gordon D., Turnbridge staff member and 2nd basemen. "The softball team provides our residents with the opportunity to once-again experience the excitement of competing on a team." "It feels great," Stephen said. "Sports were pretty much my life before drugs and alcohol. It's nice to get back into it, and to be able to play in a league. It is something I haven't done in a long time."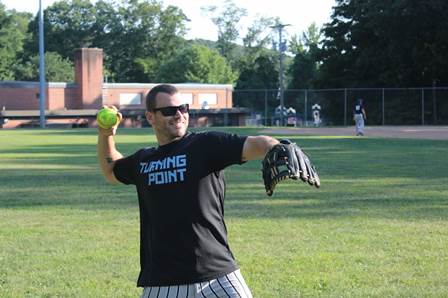 In addition to being a lot of fun, the sober softball league provides a perfect venue for Turnbridge residents to continue developing relationships with other men in recovery. "We were already friends going into it, but we bonded more from it." Said Eric. "It was a fun thing to do in sobriety, and it was really good to network. All of the guys we played against were sober. I added a lot of sober guys to my network from playing." Turnbridge made it all the way to the semifinals and enjoyed every game along with way, sharing a good time with positive people.
"When you take advantage of the rec activities, they can be a lot of fun," Eric said. "With softball we knew that we had it every week. We had a game every Friday night, and it was something that we looked forward to throughout the week."  
  With the fall season coming to a close, it will soon be time for Turnbridge residents to trade in their softball cleats for snowboard boots. "It was a great season" reflected Gordon. "Eric and Steve really seized this leadership opportunity and ran with it. Their enthusiasm was infectious. It makes me incredibly proud to witness these young guys come back to life and influence each other in such a powerful way."